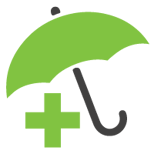 In a perfect world, decisions about inpatient versus outpatient therapy would be made according to your own medical, personal, and therapeutic needs and preferences. However, most of us must consider finances when making these decisions. So, what do you need to know about insurance coverage and your options for rehabilitative therapy and care?
Most insurance companies, including government health insurance programs and commercial ones, will require you to present documentation showing that you have a medical need for rehabilitative services in order to get coverage for the cost. They will also ask for documentation that specifies what level of care is medically necessary for you, which will be used to determine which rehab options they will agree to cover.
In general, getting coverage for inpatient rehab means showing a need for intensive rehabilitative therapy and treatment, and/or around-the-clock medical/nursing care. You will also need to be deemed able to tolerate and benefit from participation in an intensive rehabilitation program. If documentation shows that a less intensive level of care is adequate for your needs and/or ability levels, outpatient rehab may be the only option that your insurance plan is willing to cover.
Given the essential role of medical documentation when deciding whether inpatient rehab or outpatient therapy will be covered by insurance, it is crucial to be open and honest with your healthcare team or discharge planners about your needs, preferences, and concerns in regard to your recovery. Be sure to discuss any difficulties or impairments that concern you. If you are in doubt about your ability to rehabilitate effectively at home, manage your own wound care and personal care, travel back and forth to appointments, or manage any other aspects of your recovery, share your concerns.
If safety may be an issue during the early days of recovery due to a lack of help and support at home, your medical team needs to know about that as well. All of these details are essential for an accurate assessment of your care needs, which will allow you to receive the coverage you need to pay for the appropriate level of rehabilitative care.